In Memory
Anthony G. Clementi VIEW PROFILE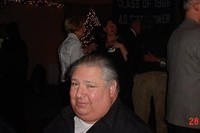 While at Norristown "A.C." was in Home Room 4, was on the Football Team, and was active in Weight Lifting Club, Acappella Chior
Anthony passed away on April 7, 2009 at the age of 59.
He was the husband of Dottie (Bontcue) Clementi. He was a 40 year employee of the U. S. Postal Service, retiring in 2006. He was a founder of the "Norristones" a well known acapella group.
He was a former youth football coach, with the Jaycees 1973, Holy Savior CYO (1974-75), Bishop Kenrick High School (1976-82); and a member of Al's Cold Cuts Softball Team, during their championship run in the 1980's.
Surviing in additon to his wife are children Lisa, Adrienne and Anthony, three grandchildren Lean, MJ, Ethan; sister Jeannine (married to classmate Dan Smith)
Click here to see Anthony G.'s last Profile entry.