In Memory
Anthony Petaccio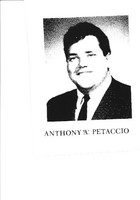 Anthony "Tash" passed away on January 13, 2002, he was 51.
He was in Home Room 14.
Tash was a heavy equipement operator and was a member of the International Union of Operating Engineers.
He was also a musician and drummer for the following bands: Diane & the Jades, The Soul Searchers and Once Again and a disc jockey known as Tash's flipside. He also coached baseball for the Norristown Athletic Association.
He was survived by his wife and three sons.