In Memory
Thomas J. Quinty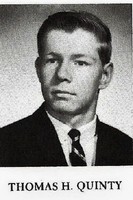 I searched the Houston Obituaries to confirm Tom's passing and could not find it but I did find out Tom had a facebook page and below was his last post.
Being a public speaker throughout my life, I should be able to have a few words of wisdom. As some of you know, I've been fighting a battle with cancer. At this point it appears that I have lost that battle. Linda and I appreciate all your kind thoughts and prayers. See you in Heaven, I'll leave the light on!
Love you all, Tom
His son J. D posted the following on August 26th.
Today I lost my best friend, my life coach, the man who made me who I am today, my father. He was a selfless inspiration to many and most certainly the biggest inspiration in my life. He shared his countless wisdom, never ending love and incredible friendship as the most loving father a son could ask for. Everyday I will live my life in hopes to make him proud as he smiles down from heaven. He made us laugh, he made us think, he dared us to dream big. Today I ask that you join me in celebrating his life. I'll miss you so very much. I love you dad. Tom Quinty