In Memory
Margaret A. Margie Martino (Vitelli)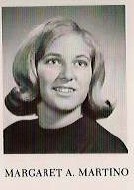 Margaret A. Vitelli(1950 - 2013)
Margaret A. "Margie" (Martino) Vitelli, Passed away at Einstein Medical Center Montgomery on Sat. April 20, 2013 surrounded by her loving family. She was 62.
Margie resided in E. Norriton, Pa., and worked as a administrative assistant for Developmental Enterprises in Norristown, Pa. She was a member of Holy Saviour Church in Norristown, Pa., and a member of Friends of Center Point in Eagleville, Pa.
Margie enjoyed spending time with her family, Her hobbies were cooking, baking, reading, sudoku puzzles, crocheting, knitting, watching movies, day trips to Lancaster and going on vacation to the N.J. shore with her family.
Margie was born in Norristown, Pa., on Aug. 1, 1950 a daughter of the late Joseph A. and Antoinette M. (Palma) Martino. Margie is survived by her loving family including her husband of 42 years, Sylvester J. "Bud" Vitelli; a daughter, Cheryl Ann, and her husband, Gary M. DeStefano, of E. Norriton, Pa., three brothers, Joseph A. Martino Jr. and his wife, Connie, of E. Norriton, Pa., John J. Martino and his companion, Johanna Dobson, of Collegeville, Pa., Peter F. Martino of E. Norriton, Pa.; two sisters, Nancy T. McFarland of Audubon, Pa., Marie A. Dotts and her husband, Cornelius "John," of Eagleville, Pa.; and many nephews and nieces.
Margie was preceded in death by two brothers, Anthony D. "Tip" and Dominic J. Martino.
Relatives and friends are invited to Margie's funeral Mass at Holy Saviour Church, 407 E. Main St. Norristown, PA 19401 on Friday, April 26, 2013, at 10 a.m. Her viewing's will be Thursday evening, 6-8 p.m., also Friday morning 8:30-9:20 a.m., both at The Bacchi Funeral Home & Crematory Ltd., 805 DeKalb St. (Route 202), Bridgeport, PA 19405. Entombment will be at St. Patrick's Cemetery Mausoleum in E. Norriton, Pa.
In lieu of flowers, memorial contributions may be made in Margie's memory to Holy Saviour Church at the above address. Arrangements are by The Bacchi Funeral Home & Crematory Ltd. Bridgeport, Pa.
www.bacchifuneralhome.com.
Published in www.timesherald.com on April 22, 2013