In Memory
Michael W. Gluckman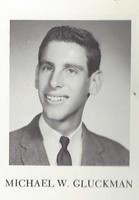 Michael Gluckman
Resident of Los Gatos
Michael Gluckman peacefully came to his eternal home, passing in the arms of his wife on March 21st, the first day of spring, at the age of 64. His life is fulfilled with the realization of Infinite Truth, expressed in his book "Making Your Wisdom Come Alive".
He carried his wife with him into Heaven internally. Externally, his wife is continuing his life with his passion for sharing the Truth. He showed her that from Heaven the earth looks really small with the exception of the expression of Love and the realization of the Source of Love.
He is missed by his father, his wife, his sister, and his brother, but they enjoy living in his inspiration. There will be a celebration of his life held in the Los Gatos hills at his earthly home, which carries his spirit.