In Memory
Cathy A. Christman (Gould)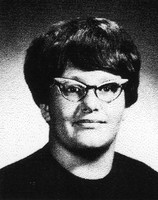 Cathy passed away on Sunday, May 31, 2009. She was 59.
While at Norristown Cathy was in Home Room 9, Acappella Chior, Band and was a Spice Representative.
She was a resident of Norristown and a life -member of Fairmount Engine Company #2 Ladies Auxiliary in Norristown. You can log onto www.timesherald.com/obituaries or www.bacchicourtney.com to view the obituary.