In Memory
Richard D. Atkinson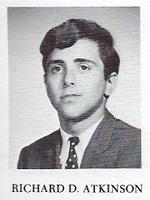 Richard D. Atkinson, of Sellersville, PA, passed away on Tuesday, November 2, 2021, at Grand View Hospital, Sellersville, PA. He was 71.
He is the loving husband of Cheryll A. Krause Atkinson, the couple recently celebrated their marriage.
Born in Norristown, PA, he was the son of the late Harry and Rosedna (Graybeal) Atkinson. A 1968 graduate of Norristown High School.
Mr. Atkinson was a U.S. Army veteran and proudly served his country.
He was self employed as a painter for himself, owning and operating Rick Atkinson Painting, in Sellersville, PA, for more than 35 years.
An avid animal lover, he would care for his cats, and any other stray animal that he came across. He loved to watch all types of sport especially football, and would love to go out to eat, particularly the Roy Ann Diner.
Along with his wife, he is survived by two stepchildren, Tara Krause, of Sellersville, and Austin Krause, of Dublin, PA; three sisters, Sandra Powell and her husband Charlie, of Bethany, DE, Nancy Lewis, of Collegeville, PA, and Linda Adkins, of Norristown, PA; twelve nieces and nephews. He is preceded in death by a sister Billie Rae Kowalkowski.
His Memorial Services will be held at 11:00 AM on Wednesday, November 10, 2021, at The Sadler Suess Funeral Home, 33 N. Main St., Telford, PA 18969. Family will receive friends from 10-11 AM prior to the service. Interment will be held privately. Memorial contributions may be made in his name to the Wounded Warrior Project, , P.O. Box 758516, Topeka, Kansas 66675-8516, or to the Bucks County SPCA, P.O. Box 277, Lahaska, PA 1893.
https://www.suessfuneralhome.net/obituary/richard-atkinson?lud=62B827F65EC814C0B1714520110E690F&fbclid=IwAR1FE4HyQZoQuD5ccWGO0bpLAyRMRX7Xr1wjgw4uRgqlD